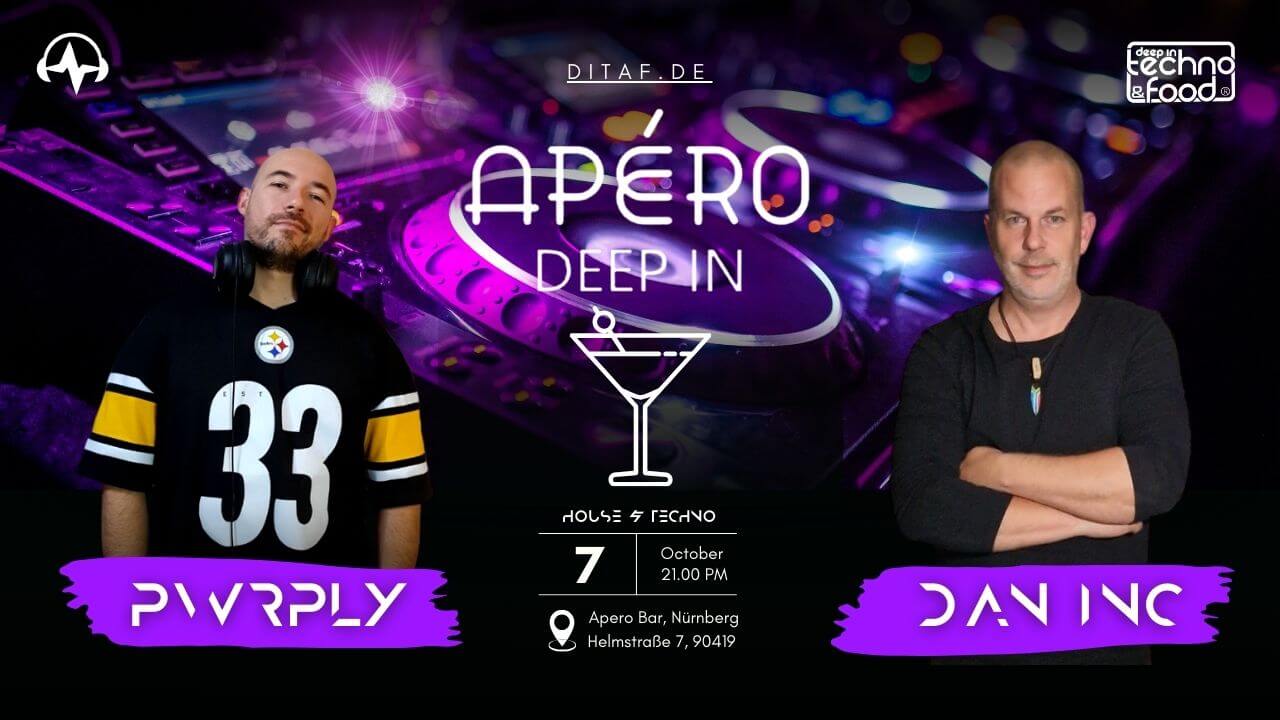 Local Time
Timezone:

Europe/Berlin

Date:

07 - 08 Oct 2023

Time:

9:00 pm - 1:00 am
Deep In HOUSE & TECHNO with DAN INC & PWRPLY
#housemusic #pwrply #deepintechnoandfood #ditaf #nuernberg #techno #clubnight  
🎉 Welcome to my 1st official live gig 🎉  It all started in 2018 when I bought myself the DDJ-SB3 Serato Console for mixing and NOW, 5 years later, I have my 1st live gig 🤗 I am very excited and thankful 🙏 for having this opportunity to share my DJ set with others.
Thank you to Dany (aka DAN INC) from  DiTaF (Deep in Techno and Food) for inviting me to play with you at Bar Apéro Nürnberg 💜🙌 
🆓 FREE ENTRY    
Get ready to immerse yourself in the pulsating rhythms of electronic beats as we kickstart the weekend in style at our intimate haven in Nurnberg. Join us for an unforgettable evening of music, laughter, and dancing as we set the stage for an epic night ahead.
🎶 Groove to the Sounds 🎶 Our lineup features not one, but two incredibly talented DJs who are ready to take you on a sonic journey like no other. Feel the infectious energy as they spin the latest and greatest in house music and techno, blending melodic harmonies with heart-pounding basslines. Get ready to lose yourself on the dance floor!
What music do we play?
Listen to my latest set on SoundCloud
🕺 Dance the Night Away 💃 At Apero, we believe that music brings people together, and our cozy bar is the perfect setting for you to connect with fellow music lovers. Whether you're a seasoned dancer or just looking to let loose, our Pre-Party promises an inclusive and welcoming atmosphere where everyone can express themselves through the universal language of dance.
🍸 Sip, Savor, and Celebrate 🥂 While the beats keep you moving, our skilled bartenders will craft your favorite cocktails and serve up delightful beverages to keep your spirits high. Indulge in a wide selection of drinks, from signature cocktails to classic concoctions, all while mingling with old friends and making new ones.
🌟 Experience Apero Magic 🌟 Our small bar radiates with character and charm, creating an ambiance that's simply unmatched. The warm and inviting atmosphere, paired with the electrifying music, guarantees that this Pre-Party will be the perfect start to your night out in Nurnberg.
🗓️ Mark Your Calendar 🗓️ Don't miss out on this incredible night of music, dance, and connection! Join us at Apero for our Pre-Party and let's make memories together as we usher in the weekend with a bang.
Get ready to dance, laugh, and celebrate life at Apero's Pre-Party – where the music never stops, and the good times keep rolling. We can't wait to welcome you with open arms!
See you on the dance floor! 🕺💃
Location